Tap into the right support and expertise with our webinars
SGIA webinars provide sports industry information, insight and training free-to-members. With regular contributions from our trusted partners, you can access the most up-to-date, relevant content tailored to your business needs.

Hosted by leaders in their fields, the latest sports sector expertise is at your fingertips on a wide range of subjects. From HR to marketing, commercial legislation to how Brexit affects your business, our frequent webinars will ensure you're in the know.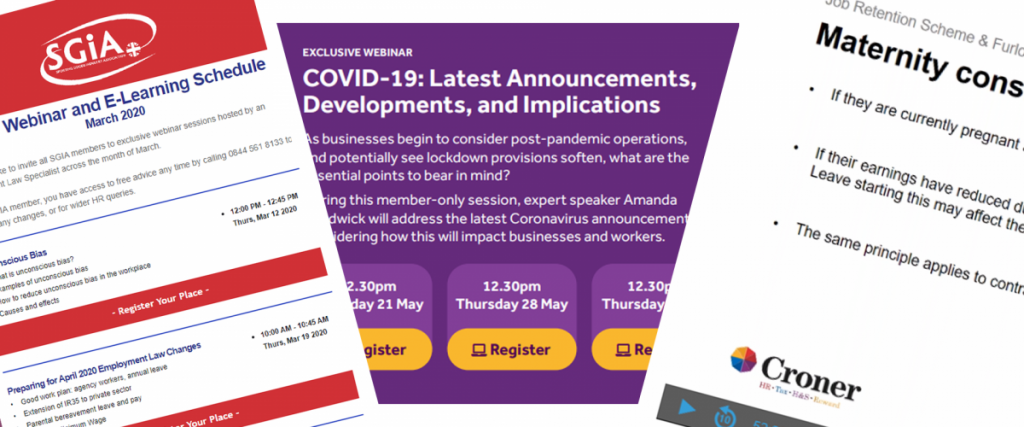 ---
Missed one?
Click on an option below to access past webinars.
Webinar: EU VAT rules are changing – IS YOUR BUSINESS READY?
If you sell into Europe then this webinar is a must. The European Union is making some very important changes to its VAT rules which will come into force from July 01 2021. All businesses could be affected but they will mostly apply to those making business-to-consumer sales – direct and via online marketplaces – selling to customers from the EU. The new rules could allow your business to benefit from simpler procedures and may change the way you do business in the EU.
Hosts SimplyVat.com work with clients across the globe to make VAT compliance simple. This informative session includes a 15-minute Q&A session and will cover how these important changes will affect ecommerce businesses.
The event will take place on Thursday 06 May 2021 at 14:00pm-15:00pm.  The guest speaker is Alex Wyatt, Global Project Manager, SimplyVAT
---
Webinar: Get Set for Digital Marketing Success in 2021
Digital marketing experts Evolved Search are holding an extended webinar exclusively for our members to help you make the most of recent developments in e-marketing and online advertising. Delivered by the Evolved team, these new sessions will cover:
The growing importance of search engine visibility for all businesses
How the pandemic has sped up the move from traditional advertising to online
How new updates are set to transform how Google views sites
The event will take place on Tuesday 27th April 2021. Members are welcome to join all or a selection of the sessions as required.
Morning Session: 10:00am – 12:00pm
Welcome
Overview of factors driving changes in what ranks and what tanks
Building traffic and audience
How to build relevant, authoritative content through FAQs and guides
A guide to Google ranking
Factors Google take into account and common myths debunked
Key information for page speed and the Google core web vitals
Site speed in organic search, an overview of the three Google core web vitals and details on the upcoming core vitals update
Afternoon Session 1pm – 2:45pm
Paid search essentials
An introduction to Pay Per Click Advertising for Search, the essentials for Google Ads and best practices which help set up accounts for success. How to ensure your strategy is informed, up-to-date and achieves long-term goals.
Intro to CRO: how it can supercharge your business growth
Basics of Conversion Rate Optimisation (CRO), why your website could be giving your users a poor website experience and how to improve your conversion rate. Includes a real-world example and key takeaways.
Your questions to the panel (45 mins)
Your chance to ask the panel anything and everything about digital marketing.
---
Webinar: Customs & Logistics: What's changed since 1st January?
Since we exited the EU on 01 January, the situation around customs and logistics is changing. You are invited to a timely update by International Trade Consultant, David Hooper, followed by an open Q&A session where you can raise any issues you may be experiencing. We will then take your outstanding problems and put them directly to the relevant UK Government departments. The webinar will take place on Tuesday 16th February 2021, 10:00am
The seminar includes:
Welcome
Customs & Logistics Issues: David Hooper, International Trade Consultant
Q&A: David Hooper & Jane Montgomery, FSPA Director of General Affairs
Identify problems that members are encountering to share with UK Government
This event has taken place, the presentation with audio can be downloaded here
---
Webinar: What to prepare for 2021
2021 will bring a number of important changes to HR and employment law. Join this free online event, hosted by Croner's Employment Law Specialist Amanda Chadwick, to find out how you can act now to prepare for the changes to come throughout the year. The webinar will take place on Thursday 14th January 2021, 10:00am – 10:45am
What will this session cover?
The crucial employment law changes in 2021 you need to know about
COVID-19: planning ahead
The vaccine and your workforce
A Brexit breakdown
Your options when the furlough scheme ends
Supporting employees' mental health
This event has now taken place, presentation is unavailable.
---
Webinar: What's New in HR & Employment Law
With a rapidly changing legal landscape, Croner have built this exclusive session to keep you up-to-date with the changes affecting your business, and the developments you need to be aware of the webinar will take place Thursday 19th November at 1pm

Join this session with specialist speaker Amanda Chadwick for advice on:
How the Job Retention Scheme extension works
The postponed Job Support Scheme
Working-from-home guidance
Ensuring a COVID-secure workplace
The rules on carrying over annual leave
Lay-off & short time working
How Brexit transforms Employment Law
This event has now taken place.

---
Webinar: Lockdown 2 Updated HR Webinar
Following the PM's announcement on Saturday regarding new lockdown measures, our trusted HR experts Croner will be updating their webinar to address these new developments and answer your questions. Join this session on Thursday 5th November 2020 at 10am.
The session includes:
Recommended actions from specialist advisors
Vital updates and changes
Basic employment law practice
What businesses like yours are seeking guidance on
How you can take a proactive approach
Live answers to your own questions
This webinar has now taken place.
---
Webinar: Do you use CE Markings?
The UK Government has recently announced the details of the UKCA Mark – the new guidance explains how to use the UKCA (UK Conformity Assessed) marking. The UKCA marking is a new UK product marking that will be used for goods being placed on the market in Great Britain (England, Wales and Scotland). This will replace most goods which previously required the CE marking. The process for the UKCA Mark is extensive and many members have questions so the FSPA has arranged for the Head of Business Engagement, Office for Product Safety and Standards to hold a virtual meeting with FSPA members in relation to technical questions, which will take place on Tuesday 6th October 2020. Email Jane Montgomery below for more details.
---
Webinar: Selling into schools – what now?
As the new academic year gets underway, you may well be thinking about the best ways to approach the education market in these unusual times. The Education Company shared what they have learnt over the last few months about how best to market your products to schools and colleges.
This event has taken place, the webinar audio can be downloaded here
PE and Sport Premium for schools

---