Tap into the right support and expertise with our webinars
SGIA webinars provide sports industry information, insight and training free-to-members. With regular contributions from our trusted partners, you can access the most up-to-date, relevant content tailored to your business needs.

Hosted by leaders in their fields, the latest sports sector expertise is at your fingertips on a wide range of subjects. From HR to marketing, commercial legislation to how Brexit affects your business, our frequent webinars will ensure you're in the know.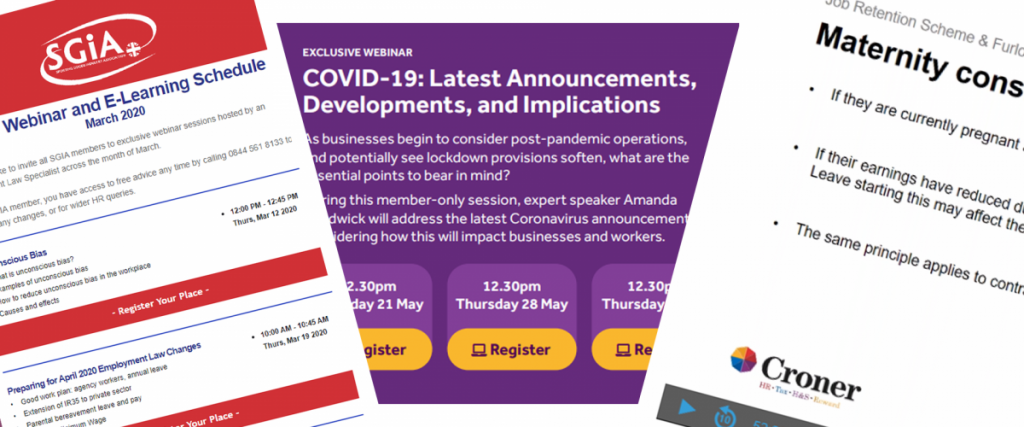 Dates for your diary
No events scheduled
---
Missed one?
Click on an option below to access past webinars.
Webinar: What to prepare for 2021
2021 will bring a number of important changes to HR and employment law. Join this free online event, hosted by Croner's Employment Law Specialist Amanda Chadwick, to find out how you can act now to prepare for the changes to come throughout the year. The webinar will take place on Thursday 14th January 2021, 10:00am – 10:45am
What will this session cover?
The crucial employment law changes in 2021 you need to know about
COVID-19: planning ahead
The vaccine and your workforce
A Brexit breakdown
Your options when the furlough scheme ends
Supporting employees' mental health
This event has now taken place, presentation is unavailable.
---
Webinar: What's New in HR & Employment Law

With a rapidly changing legal landscape, Croner have built this exclusive session to keep you up-to-date with the changes affecting your business, and the developments you need to be aware of the webinar will take place Thursday 19th November at 1pm

Join this session with specialist speaker Amanda Chadwick for advice on:
How the Job Retention Scheme extension works
The postponed Job Support Scheme
Working-from-home guidance
Ensuring a COVID-secure workplace
The rules on carrying over annual leave
Lay-off & short time working
How Brexit transforms Employment Law
This event has now taken place.

---
Webinar: Lockdown 2 Updated HR Webinar
Following the PM's announcement on Saturday regarding new lockdown measures, our trusted HR experts Croner will be updating their webinar to address these new developments and answer your questions. Join this session on Thursday 5th November 2020 at 10am.
The session includes:
Recommended actions from specialist advisors
Vital updates and changes
Basic employment law practice
What businesses like yours are seeking guidance on
How you can take a proactive approach
Live answers to your own questions
This webinar has now taken place.
---
Webinar: Do you use CE Markings?
The UK Government has recently announced the details of the UKCA Mark – the new guidance explains how to use the UKCA (UK Conformity Assessed) marking. The UKCA marking is a new UK product marking that will be used for goods being placed on the market in Great Britain (England, Wales and Scotland). This will replace most goods which previously required the CE marking. The process for the UKCA Mark is extensive and many members have questions so the FSPA has arranged for the Head of Business Engagement, Office for Product Safety and Standards to hold a virtual meeting with FSPA members in relation to technical questions, which will take place on Tuesday 6th October 2020. Email Jane Montgomery below for more details.
---
Webinar: Selling into schools – what now?
As the new academic year gets underway, you may well be thinking about the best ways to approach the education market in these unusual times. The Education Company shared what they have learnt over the last few months about how best to market your products to schools and colleges.
This event has taken place, the webinar audio can be downloaded here
PE and Sport Premium for schools

---